ConTech is fast becoming one of the 'must-attend' events of the publishing technology calendar, and the 2022 edition was another incredibly successful conference. As sponsors, our role with the conference continues to grow, with our CEO Sam Herbert once again co-chairing the event alongside Ann Michael and Dan Pollock. The range of topics in the programme were wide and varied but all held a razor-sharp focus on the impact new and emerging technologies are having on the content landscape.
As part of this far-reaching syllabus, we were delighted to see our Head of Client Delivery, Dave Curtis, giving an insightful talk about 'Creating a Culture of Innovation' alongside our partners at DeGruyter. Their in-depth exploration of how DeGruyter are tackling the challenges of supporting an entire organisation to go through a multi-year Digital Transformation programme offered actionable steps for other organisations to take to enable them to follow in their footsteps. We'll be sharing our key takeaways from this session shortly.
While all the talks were of an incredibly high standard, there were a few which really complemented our own session and would be of interest to anyone going through digital transformation with their own company. These included:
'Transform your Culture by NOT 'Changing Culture', from Finbarr Joy at Superbet.
'The Good, The Bad, and the Ugly: Implementing Organisational Change' from our partners at Emerald.
'So you've decided you need an 'entrepreneurial culture', now what?' from Altmetrics' CEO, Katherine Christian.
If you missed it, all the conference recordings are available via the ConTech website. ConTech will return in 2023 on 15th and 16th November. You can register now to keep up to date with the conference and other future events.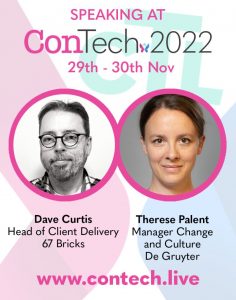 Did you watch the ConTech presentations and find yourself wondering about how to start on your own company's digital transformation? We're always happy to provide a sounding board and help you to uncover what your next steps should be. Why not contact us to start today?