Where is content headed and is there a roadmap for a successful digital future?  These were among the key questions asked at last week's ConTech Week 2020, and the futuristic note set the tone for four days of enlightening debate, steered by 30 industry experts and influencers including Esther Dyson, Vivian Chan, Bettina Goerner, Matt Turner and 67 Bricks' MD Sam Herbert.  
Sam chaired a panel session The skill sets and mindsets helping publishers embrace digital transformation, featuring Sharon Cooper, Chief Digital Officer, The Economist Intelligence Unit and Brian Bishop, formerly product director at Secret Escapes.  They spoke candidly about the highs, lows and turning points of how to balance leadership team needs and drive change on a day-to-day basis. Sam's second presentation, Welcome to the future – your content business in 2030, took the audience on a journey to 2030 and asked them what kind of business decisions they would need to make to future proof themselves.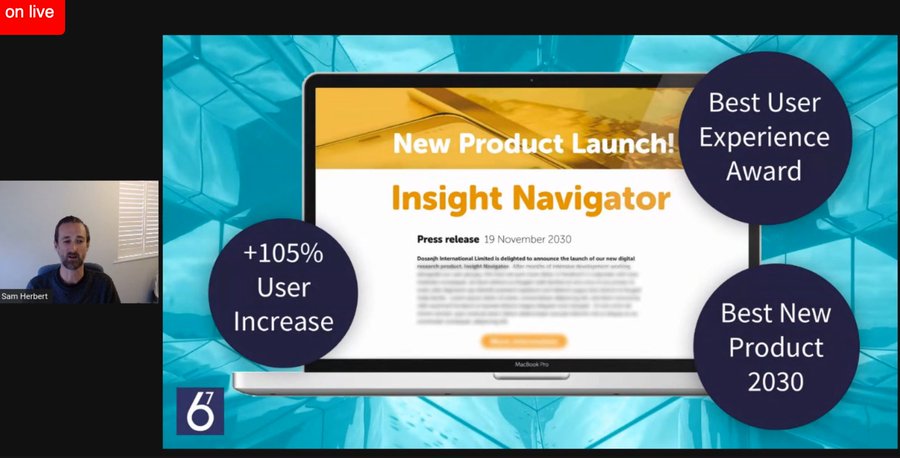 Other event highlights included a visionary presentation by Stephen Pavlovich of Conversion on taking experimental approaches to support customer decisions, a session by Bettina Goerner, Springer Nature on data asset monetization and a brutally brilliant presentation on the promise and perils of new technologies by Ian Mulvaney at BMJ.   
Great session @samherbert I took extensive notes! Sarah Boyd, Head of Digital Experience, Emerald
How do you win Best New Product 2030? Start now, invest in customer and data centric practices and keep on target through the many changes coming in the next 10 years. Great presentation Sam – thanks! @samherbert Matt Turner, Strategic advisor and technologist 
Clive Snell, MD of ConTech.Live said " We have had some amazing and very gratifying feedback on this year's event.  We look forward to building on this experience to further develop our online offering and create more blended / hybrid events in 2021."
Contact us if you would like to arrange to share Sam's Welcome to the future – your content business in 2030 slides with your publishing leadership team.  For more information on digital transformation in publishing, take a look at our insights and our case studies.