Big ideas that move the world were in abundance at the Westin Grand Frankfurt last week, where senior professionals from the scholarly publishing industry gathered for STM's landmark pre-Frankfurt annual conference.  As many question traditional roles and business models as part of a "fall out" of the digital age, there was much to discuss.
67 Bricks co-founder Sam Herbert took part in the panel on Keys to innovation alongside Jayne Marks of Wolters Kluwers Health, Pierre Montagano of CodeOcean and Steven Inchcoombe, Springer Nature.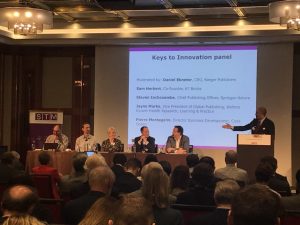 Chaired by Daniel Ebneter of Karger, the panel shared their thoughts on strategising, organising and leveraging technology, publishing and innovation to an engaged audience.
Jayne Marks, Vice President of Publishing at Wolters Kluwers Health, talked about "going beyond just putting books online to a wider program of change across the organization." Sam Herbert added that there are many types of innovation and that while publishers are terrible at structural innovation, they need to start now because "they are in a race" with competitors and start-ups from Silicon Valley who are building for tomorrow.
Other industry reports echoed these sentiments; an interesting piece by Outsell Inc CEO Anthea Stratigos talked of an industry that needs "completely resetting" adding, "a new entrant is required and we suspect it will be an external player."
Much food for thought.  We look forward to all the news from Charleston and CISPC next month, and meeting people in person at Futurebook (25 November), STM Week  (3-5 December) and ConTech (5-6 December).
For more information on how to take a new, agile approach to what you do, go to our case study library.