What a forty-eight hours we had at Association of Learned & Professional Society Publishers (ALPSP) Annual Conference and Innovation Award last week!
Scite.ai were worthy winners of the ALPSP Annual Innovation Award. scite.ai is a platform to evaluate the reliability of scientific claims. It's deep learning models, combined with a network of experts, automatically extract and classify references to a scientific claim (citations) as supporting, contradicting, or mentioning. David Sommer, Chair of the Judges, said: 'Scite is important because it addresses the key challenges of trust and reproducibility by offering the reader an easy way to understand the context of a piece of research, without adding to the workflow for the researcher.'
67 Bricks was proud to be among the final four shortlisted (pictured below with Scite.ai), who beat a strong list to get to the latter stages.  Our project with client BMJ Best Practice 'Reinventing Medical Information for the Digital Age' – updating the heritage brand's flagship clinical tool used by thousands of clinicians around the world at point of care – received great feedback from the judges, and we thank the entire team at BMJ  for their incredible work on this.  We were also lucky enough to get a nod from another client during the programme – Stephen Wilkes of The Royal Society of Chemistry, who presented on the Royal Society of Chemistry's new OA Licensing System, credited 67 Bricks as a partner of excellence.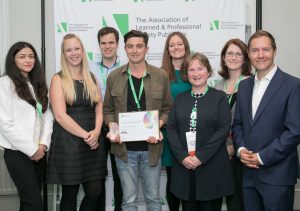 Some critical conversations took place in Windsor and we enjoyed catching up with associates and friends both old and new.
67 Bricks' Jennifer Schivas said: "The scholarly publishing industry is simmering with change right now.  Inclusion and innovation were key themes at ALPSP and the event was buzzing with ideas.  67 Bricks is proud to be part of the wave of companies who show that data and technology can help publishers do incredible things for their users."