Technology Consultancy
Technology consultancy can cover a whole host of things, but at its broadest, it's about working with you to help you to understand how to use technology to manage change, solve problems and streamline processes so you can operate more efficiently and profitably. We offer a range of consultancy solutions to support your business to meet its goals.
Flagship product discovery
Our proven discovery process has been instrumental in guiding some of our most prominent clients, including The EIU, DeGruyter, and Emerald, through a seamless transition from product ideation to delivery. The discovery phase, which typically spans 6-8 weeks, entails the involvement of all key stakeholders to establish the most effective approach for your business before embarking on the new product build. Typical outcomes include
An agreed product vision for your team to focus on, including prioritised user and business needs

A delivery roadmap

Details of the best technical architecture and technology approach to meet your vision, including recommendations for key technology choices, e.g. search engines, NLP pipelines or database systems.

Indicative costs and timescales for various delivery options, including in-house, outsourcing or co-developing with 67 Bricks, or another third-party partner, so you can proceed with confidence.
"It's been a comprehensive team effort to rework and rethink EIU's 'operational risk' product for our current times, where understanding operational risk is a fundamental part of any business strategy. Super excited to see it in the market and in the hands of our users!" – Sidharth Sreekumar, Senior Product Manager, EIU
Technical due diligence
Move forward with acquisitions, investments and sales with certainty. Our two-week due diligence consultancy service will thoroughly examine the technical capabilities and limitations of a company of interest, whether in broad terms or with a specific focus on a particular area; for example, previous clients have requested we break down the potential impact of AI on a particular company or industry. 
Typical outcomes include:
A detailed report providing a clear picture of any potential risks, delivered in a format most useful for future discussions (slide deck, written report etc…)

A prioritised list of recommended activities to be resolved in 30/60/90 days

Calls with our team to have in-depth discussions to explore the analysis and ensure absolute clarity of meaning.
"It was absolutely fantastic to work with you, and with your team. I think you're a super-talented bunch of people with the absolute perfect mix of business acumen and technical excellence, and in my several years now working in the field, I've never met a more capable organisation." – Ben Miller, Senior Product Owner, Wiley
Technology audits
Get to grips with your current technology stack, and thoroughly interrogate potential opportunities or challenges such as:
Single points of organisational failure

Systems which limit growth capacity

Bottlenecks

Places where automation and AI could streamline processes

Commodity systems which could be successfully outsourced to increase efficiency
This consultancy typically takes 8 weeks to complete, throughout which you'll be given weekly updates before the final recommendations are provided. We'll involve team members from throughout your business through structured interviews, which will ensure a truly holistic picture is created and that any recommendations for action made are deliverable. 
Typical outcomes include:
A report outlining method, findings and recommendations – including options for 67 Bricks to support in implementation if required.

A wrap-up-call to discuss the report and any final questions or uncertainties to ensure you are left with renewed confidence in your technical architecture.
"This has been a successful, incredibly complex project delivered in a short period of time. It has given us the foundations to support our product development strategy, innovation and partnerships that were impossible before." –  Louise Crowe, Director of BMJ Knowledge
Prototyping
Want to rapidly test an idea without stretching your internal resources? We can create prototype technical solutions to business problems in as little as 8 weeks. 
Take advantage of our skilled team of software developers and product managers who can expertly turn your ideas into working prototypes quickly, giving you an efficient way to demonstrate the value of an idea to the business – or prevent you from investing heavily in something that may not be as effective as you first thought. As a result of this work you will
Utilise a skilled team at a lower cost than using in-house resource

Gather evidence as to whether a product or enhancement is technically possible

Get a realistic cost estimate for future development should you wish to proceed
"The most useful learning from this experiment work with 67 Bricks was the meta-lesson about how much can be learned in a short period of time. We unlocked hidden insights in data we already had in hand. We discovered improvements in systems and workflows that seemed pretty robust." – Waylon Butler, Director, Data and Analytics, AIP Publishing
Leadership coaching
Have you stepped into a new role, company or industry, and want a safe space to explore the challenges you're facing? Or do you have technical or product management reports you'd like to offer some bespoke development to progress them in their career goals? 
We will provide you with a regular space (set at your preferred cadence) to explore:
How to best diagnose organisational issues – and what to do next

Guidance on embedding a process or change to the team, for example, adopting Kanban or creating a new product management role

How to navigate the chaos and chart a clear, strategic course for the future

Best practice for building a technical or product team
"I like 67 Bricks because you have huge ambition for change – both internally and within the publishing industry.  Moreover, your personal touch centred on the client is proving important during these challenging times. Clients want to keep working with you as trusted partners." – David Worlock, Digital Strategy Advisor and Co-Chair, Outsell
Fast-tracked discovery and insights
Split over two sessions, this focused collaboration will identify opportunities for making use of your data and people more efficiently through a concentrated deep-dive of your business. We will take a holistic view of your technology landscape to identify experiments which could yield quick wins and validate new business models.
The deep dive will:
Uncover opportunities for using data in new and innovative ways

Highlight areas when efficiencies can be delivered via technology, for example with  the application of AI and machine learning

Assess potential opportunities against various axes, e.g. complexity and value to allow these to be prioritised effectively

Define opportunities for useful prototyping solutions to validate these ideas
Typical outcomes include:
A list of up to 3 opportunities for a new product or feature development

A definition of  each product, together with likely technology and data requirements

An agreed set of next steps for one opportunity, to outline how best to bring it to fruition in partnership either with our product development team, internal resource or third-party suppliers.
"I want to thank 67 Bricks for all their innovative ideas, collaboration, patience, responsiveness and hard work, successfully taking us from initial brainstorming through design, build and (blessedly uneventful) launch. We felt that from the beginning the 67 Bricks team listened to us and truly understood our organization and the importance of this project to us and our membership." – Heather Evans, Executive Director and CEO, Canadian Tax Foundation

"The most useful learning from this experiment work with 67 Bricks was the meta-lesson about how much can be learned in a short period of time. We unlocked hidden insights in data we already had in hand. We discovered improvements in systems and workflows that seemed pretty robust.  We learned about the utility of new data mining and analysis techniques. And, we learned about a different way to approach work and problem-solving generally – one does not need a big project that is extensively planned – just get the data, some expertise, and some curiosity together, ask questions, then repeat on a short cadence"

Waylon Butler
Director, Data and Analytics, AIP Publishing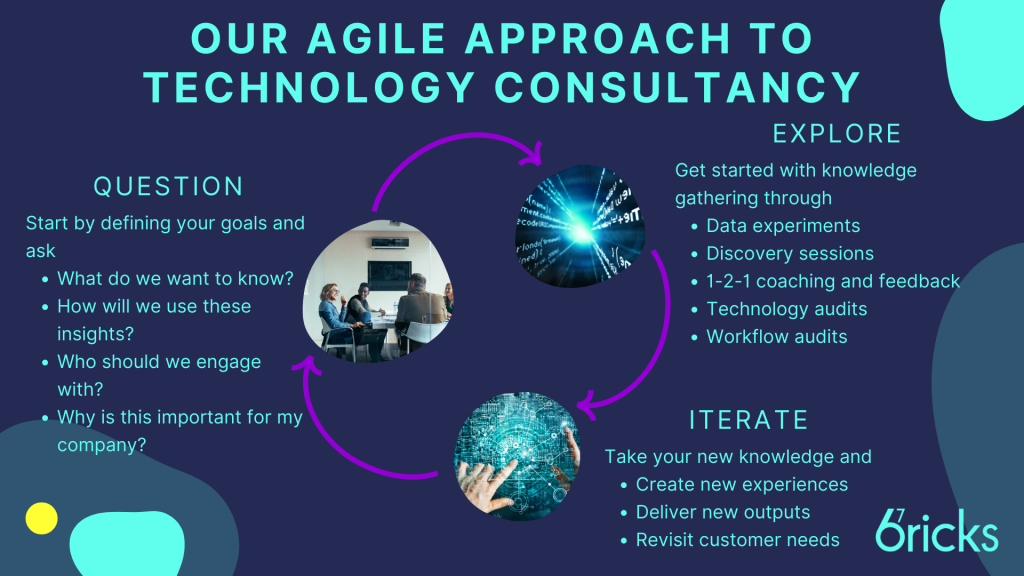 67 bricks as a critical friend
We employ creative and curious professionals who are always interested in solving problems. As such, we like to work with our partners as a 'critical friend' – challenging preconceptions and pushing businesses to examine carefully the outcomes they seek to ensure they are going to really move the needle in terms of revenue generation, customer acquisition/retention or efficiency.
What sort of questions can be asked of a technology consultancy project?
Customers have come to us wanting help with big questions such as:
Is our product platform fit for future audiences?
Is AI an opportunity or a threat?
How can we maximise the value of our internal data to make better decisions?
What opportunities for new revenue can we create from our existing content?
How can we better integrate our technology stack to create seamless experiences?
I'm interested in this new technology – will it work well with my existing stack?
There's potential to acquire a new company – what shape is their technology in?
If you're facing a tricky problem, our experts are here to help you solve it and implement the solution effectively. As a full-service consultancy, we provide answers that can be implemented, guide you through that implementation or even build and integrate it for you. So you'll never be left just with a report that you can't action.
Need more inspiration? Read our case studies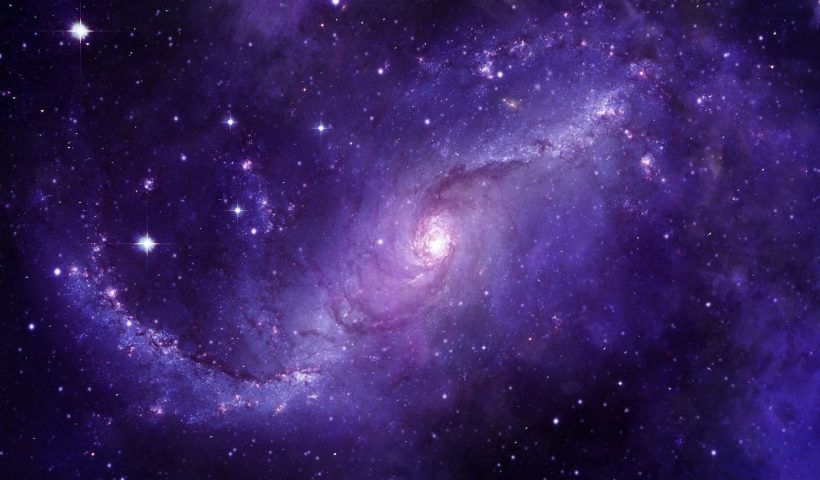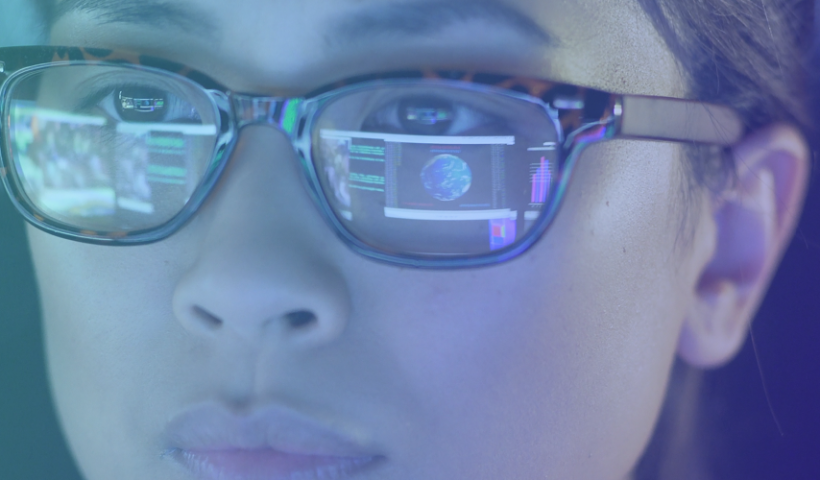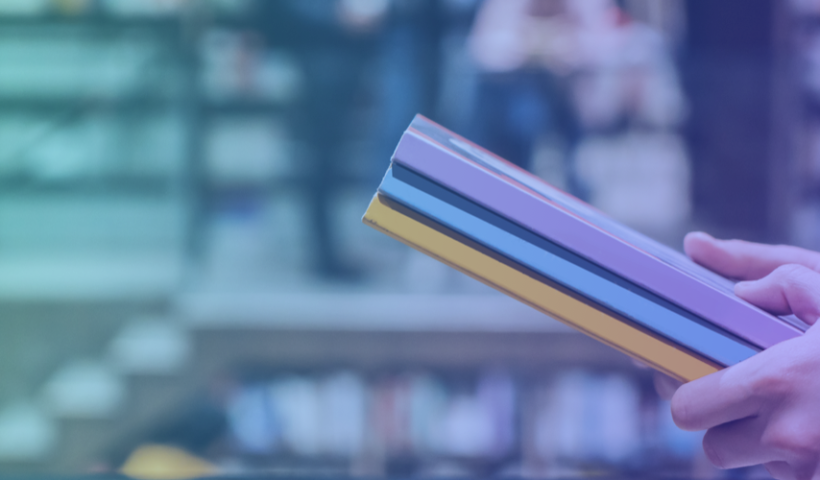 LET'S GET STARTED
Information products for the data-driven world
We partner with companies to deliver compelling, data-driven user experiences